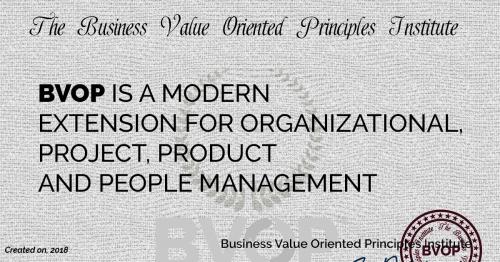 BVOP™ offers a Technical IT and Software Management course as part of our free general training course information. Management specialists who are focused on technology, IT or software projects now have the opportunity to acquire a certificate in the field of IT, Technical and Software Development.
The educational training course includes the traditional BVOP™ Management, but there are additions to the technological section. Additions include principles of software development, general IT terminology, and common technical themes. The Technical IT / Software Management Exam consists of questions about classical general management. The candidate must take the standard exam. Then, if you wish to continue your qualification with the Technical IT / Software Manager, it is necessary to inquire with the BVOP office with the request to extend the qualification to technical or software.
Technical / IT Management Training Course
Candidates can apply for the Technical / IT Management training course. This program differs from the software program a lot. Topics focus on common concepts in Internet protocols, security, encryption, and more.
Price of Technical / IT Management training course:
All applicants who have successfully finished a standard management course can obtain a free technical certificate only for a fee of $ 30.
Software Management Training
Those interested in software management may request Software Management Certification in the manner described above. This program differs from the IT program. Topics are software management and include analysis, planning, specification writing, monitoring and management of defects and software testing.
The price is again $ 30.
Why can you get a free certificate?
BVOP includes many topics from different disciplines, methodologies, best practices, and principles. Anyone who stands the test is considered sufficiently qualified in all the general management practices, principles, and processes that BVOP spreads around the world.
You have to make an effort. The fact that you have successfully obtained a document does not mean that you will automatically expand your qualification. You must make efforts that will be re-evaluated. We will send you questions that you need to answer and prepare a project in detail.
You will get 10 questions from our teams. Depending on the area you choose, you will prepare 10 answers in detail. You must send them back to our teams, who will evaluate your work.
Can I get both Technical / IT and Software Management training simultaneously?
Yes of course. You can apply for both programs by paying a $ 30 fee for each. You will receive 10 questions per program. You will need to prepare a total of 20 themes and submit them to the evaluation committee.
Can I get the qualification by paying the full fees and not doing the online test?
No. The online test includes many topics that we want you to know and be aware of.
What is BVOP?
For the final, we want to introduce our principles. If you have not yet met them. BVOP stands for Business Value Oriented Principles. These are new modern Agile principles for managing not only projects but also products, people and organizations. Our principles are based and built upon the foundations of widespread worldwide problems. We contribute to the whole management society by creating new professionals and provoking a new way of thinking in modern professionals and managers.
BVOP™ also offers Product Management, Product Owner, Scrum Master, Human Resources Manager, Agile Director, and Chief Executive. Check out all our proposals and make sure you keep up with our modern principles by reading the free BVOP™ guide in the Learn section.
Related posts: