Be Certified CEO with the BVOP™ Chief Executive certification program
About the BVOP™ Chief Executive Certification program
Modern Chief Executive officers need agile certification program that guides them to positive management and organizational culture that have reflect the entire matrix structure and teams. The BVOP™ Certified CEO establish management where dynamic business and changing environments affect cross-functional teams and operations on the entire organizational level.
The Business Value Oriented Principles (BVOP™) teach the modern CEO that they have to be fully dedicated to all management offices and focus on the People, Program and Project management processes when organizational strategies are focused on product development.
The BVOP™ Chief Executive
The certified BVOP™ Chief Executive is the most advanced and important role inside a product and service-based companies.
The BVOP™ Chief Executive role is critical for driving modern organizations where all people have real needs and problems. The Business Value Oriented Principles (BVOP™) were created to to help Chief Executives with managing all offices using both people and business oriented approach.
The Certified BVOP™ Chief Executive officer focuses on management where all organizational processes, people, projects and products create a business value for the entire organizational portfolio. The Certified CEO with the BVOP™ value people, processes, priorities and products equally.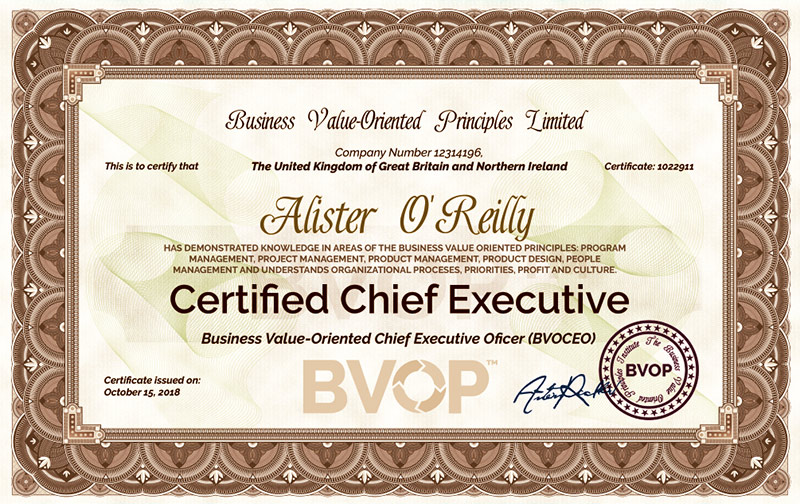 Who should apply for BVOP™ Product Management certification?
Current Chief Executives (CEO or CTO)
Senior Project managers
Senior Human Recourses managers
Senior Product managers
Professionals planning to develop a career as a Chief Executive (CEO or CTO)
Why you should apply for BVOP™ Chief Executive certificate?
Transform your entire organization culture, priorities and practices. As a certified BVOP™ Chief Executive Chief Executive you will be able to improve your people, project and product management.
Get awareness of the workflows of your product teams and managers. Knowing the work and processes of the teams will make your activity easier. You will be able to support your organization's problems faster and more adequately
Be emotionally closer to your human resources department. Earn respect for your subordinates by implementing modern management principles that are both business and people oriented. As a chief executive you really need to do this.
Involve yourself proactively in manufacturing problems and make the right decisions. The whole organization relies on your knowledge and awareness.
Take wise decisions in conflicts and approaching organizational critical situations.
Assessment topics
Introduction
Business Value Oriented Program Management
Business Value Oriented Project Management
Business Value Oriented Product Management
Business Value Oriented People Management
General topics
Certification process
3. Learn the entire BVOP™ Ultimate Guide.
Prerequisites
Previous experience as a Chief Executive officer or General, Program, Project or Human Resources manager is desired
Price
The BVOP™ Chief Executive certification is currently offered for $1290 $720.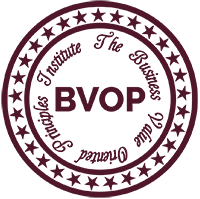 Be always updated
Never miss important update about the BVOP, the certification program or special offers.
Join our Mailing list
Download the BVOP™ Ultimate Guide
Download the latest full BVOP™ Ultimate Guide in PDF
Download