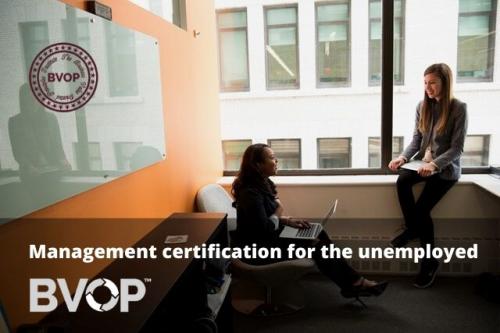 BVOP ™ launches a campaign for management certification for unemployed people to provide training for unemployed persons and to increase their employability. The initiative takes place in different countries around the world.
All persons formally declared by the local unemployment agency as unemployed are eligible to participate in the campaign and apply for certification in the following disciplines.
Certified Project Manager
Certified Product Manager
Certified Human Resources Manager
The campaign for certification of unemployed people is currently advancing in the following countries:
Afghanistan
Bangladesh
Bulgaria
China
Guatemala
India
Indonesia
Iraq
Madagascar
Mexico
Moldova
Philippines
Thailand
Ukraine
The free certification campaign offers limited numbers for each country.
The number of free certification exams reserved for the countries listed:
Afghanistan, 2000
Bangladesh, 1000
Bulgaria, 1000
China, 6000
Guatemala, 1000
India, 6000
Indonesia, 5000
Iraq, 2000
Madagascar, 1000
Mexico, 2000
Moldova, 1000
Philippines, 2000
Thailand, 2000
Ukraine, 1000

Applying for the free management certification program
To apply for the free management certification program, unemployed persons must prepare the following resources and materials:
Formal document proving your registered status with your local unemployment agency
Cover letter
Apply only through local BVOP ™ representatives. These may be state agencies as well as private organizations that have joined the initiative.
Billing
Due to no small amount of administrative work involved in assisting the unemployed, each applicant will be charged a minimum fee for processing the application. Applicants will be provided with instructions or other guidance materials. Local organizations representing the campaign performs charging. Each representative organization may have different fees depending on its administrative status or geographical location.
Join in the campaign
Representatives of local governmental or private organizations can participate in the campaign for a free management certification program for the unemployed. You can request your participation at email partners@bvop.org by submitting your administrative status, activity type, location, and description of your motivation to participate.
Extension of territorial scope
BVOP plans to expand the campaign in the future to include additional countries in the target list.
Related posts: